For the second year, Madame Rap is one of the official partners of INTERSECTIONS! The festival moves into L'Embobineuse in Marseille from April 26 to 28 to showcase women, queer, trans and racialized people often negated or underrepresented on the music scene. 
During three days, concerts, stand-up shows, exhibitions, debates, workshops, screenings, performances and DJ sets will celebrate minoritized artists and help young people access art. The event is very much hip hop-driven (especially with Tracy De Sà, Safyr Sfer, Syn Cha, K's Khaldi and Neka Groove), but remains open to other musical genres.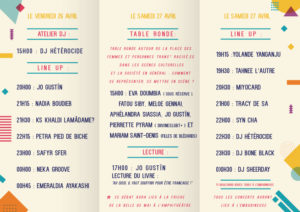 Founded by the association BAHAM ARTS, carried by Waka and Paulo, two queer people, one Black woman and one trans boy, the festival makes the connection between two important dates for human rights: March 8 (the International Day for Women's Rights) and March 21 (the International Day for the Elimination of Racial Discrimination).
Before the festival, BAHAM ARTS organizes a fund-raising party on April 5 to collect money for the event and pay the artists (see the Facebook event here). As a matter of fact, Waka and Paulo have been working voluntarily since 2015 to highlight women and gender minorities in hip hop. First, with the rap band Rap'Elles, and then with two festivals, UMOJA and INTERSECTIONS.
Designed as a tribute, the second season of INTERSECTIONS is dedicated to Ibrahim Ali, shot by supporters of Jean-Marie Le Pen's Front National Party on February 21, 1995, the victims and families of the victims of the collapse of the rue d'Aubagne on November 5, 2018, victims of domestic violence and femicides, trans and LGBTQIA people who suffer persecution in the world, Marielle Franco and Vanessa Campos, victims of police brutality and all the people who died crossing the Mediterranean or in bombings.
See you in Marseille on April 5 at the Dar Lamifa and from April 26 to 28 at L'Embobineuse !