Ten days before her concert at Les Cuizines in Chelles, queer South African rapper Dope Saint Jude told us about her former drag king character, resilience and the women who inspire her.  
How and when did you discover hip hop?
I discovered hip hop as a child much like many other people. My interest in it developed more seriously in 2012 after becoming a drag king. My act was based on exploring hip hop masculinity. 
What made you want to become a rapper?
After I gave up being a drag king, I wanted to explore something different. And this led me to hip hop as a performance art.
What's the story of your drag king character? Does he still exist today?
The character was called Saint Dude, based on Lil Wayne. I don't use the character anymore.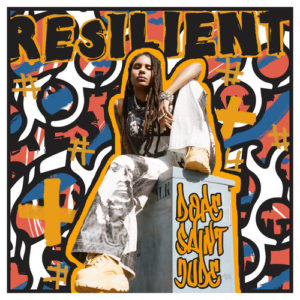 You released the EP Resilient in 2018. How did you work on this project?  
I worked on the project in London. I worked with producers and within a week I created the EP.
In which ways are you resilient?  
I believe we are resilient in some way. I have been able to overcome difficult circumstances throughout my life and keep pushing.
You released the video Inside last June that talks about the weight of appearance and oppressive beauty standards for young girls. How did these diktats impact you as an artist?
I have always wanted to define my own artistry and within that, my own idea of beauty. I truly believe that beauty is exuded from within. So my aim is to find inner peace and beauty within myself. This search is part of my artistic process. 
You're often presented as a queer rapper. Do you identify as such? What does the word "queer" mean to you?
Yes I identify as queer. Queer is anything outside of the cisgender binary of sexuality and gender.
Who are the women who inspire you and why?
I am inspired by Winnie Mandela, Oprah Winfrey and artists like Lizzo. I love them because they have all overcome difficult circumstances with grace and with love. They are strong, unapologetic and beautiful inside and out. 
What are your upcoming projects?
I will be releasing my debut album soon, which I am very excited about.
What do you think of Madame Rap? What should be changed or improved?
I think it is a great platform. It is always great to have platforms that celebrate us. I would encourage the platform to stay away from using words like "female"- as this excludes trans women.
Find Dope Saint Jude on her website, Facebook, Twitter, Instagram, YouTube and live at Les Cuizines in Chelles on October 11 with Kenyan rapper Muthoni Drummer Queen !